CROCHET GRANDMOTHER BLANKET PATTERN. Welcome to the wonderful world of crochet! Get ready to create a Grandma's Pattern Crochet Throw that is perfect for snuggling up to on cold nights or gifting that special someone. Let's start with enthusiasm!
Necessary materials:
Colored Wool: Choose your favorite colors. Soft, cozy fleece is the best!
Crochet Needle: Use a hook that matches the thickness of the chosen yarn. Usually a 5mm needle works fine.
Scissors: For cutting the thread and trimming the ends.
Tapestry Needle: Used to sew the ends together.
Step 1: Start the Chain
Start by making a chain of 6 stitches. To do this, make a slip knot, then make 6 chains, attaching the last one to the first to form a circle.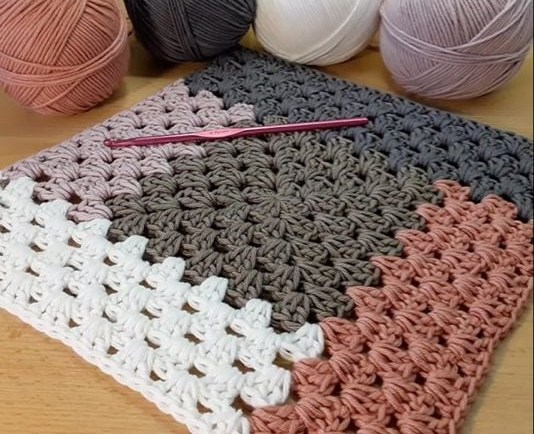 Step 2: First Career
Make 3 chains to go up, which will count as your first double crochet.
Now, inside the circle, make 2 more double crochets. You will have a total of 3 double crochets.
Make 2 chains to create a space, then make 3 more double crochets in the circle.
Repeat the previous step two more times to create four groups of 3 double crochets separated by 2 chain spaces.
Close the row with a slip stitch in the third chain from the beginning.
Step 3: Color Change
Choose a new color to add a creative touch to your blanket. Thread the new color onto the hook and start a new row.
Step 4: Low Point Careers
Chain 1 up (this does not count as a single crochet) and crochet 1 single crochet in each double crochet on the previous row.
In the spaces of 2 chains, make 1 single crochet, 2 chains and 1 single crochet.
Keep doing this until the end of the row. Make sure the edges are flat.
Change color again if desired.
Step 5: Repeat Steps 3 and 4
Now, repeat Steps 3 and 4 alternating colors and making rows of single crochets until you reach the desired size for your blanket.
Step 6: Finalization
Finish the blanket by cutting the thread and passing it through the last loop. Use the tapestry needle to hide any loose ends.
Step 7: Enjoy Your Artwork!
Your Crochet Blanket in Grandma's Pattern is ready! Cuddle up in it, gift someone special or decorate your home with this creative and loving work.
Remember, practice makes perfect in crocheting. So, don't be afraid to experiment with different colors and patterns. Have fun creating your unique blanket!
If you liked this crochet yarn craft pattern, just below, we'll leave you with some more options for models of the most diverse crochet styles so that you can be inspired and hit the nail on the head, which style of crochet you will start with:
Access the full free crochet pattern
We at the We Love Crochet blog wish all our beloved readers a wonderful week, full of God's blessings in their homes, and of course, not least many skeins of yarn to crochet. A big hug to all, that's what we want. We Love Crochet.