Welcome to the wonderful world of crochet! In this tutorial, you'll learn how to create a beautiful crochet round flower, a motif that can be used in a variety of projects, such as blankets, throw pillows, and even clothing. Grab your favorite crochet hook and yarn, and let's get started on this creative journey!
Necessary materials:
Crochet hook (size suitable for your yarn)
Crochet yarn (choose your favorite color)
Scissors
Tapestry needle (for sewing the ends)
Step 1: Preparing the Wire
Start by wrapping the yarn into a slip knot. Then insert your crochet hook into the slip knot and secure it. You are now ready to start creating your flower!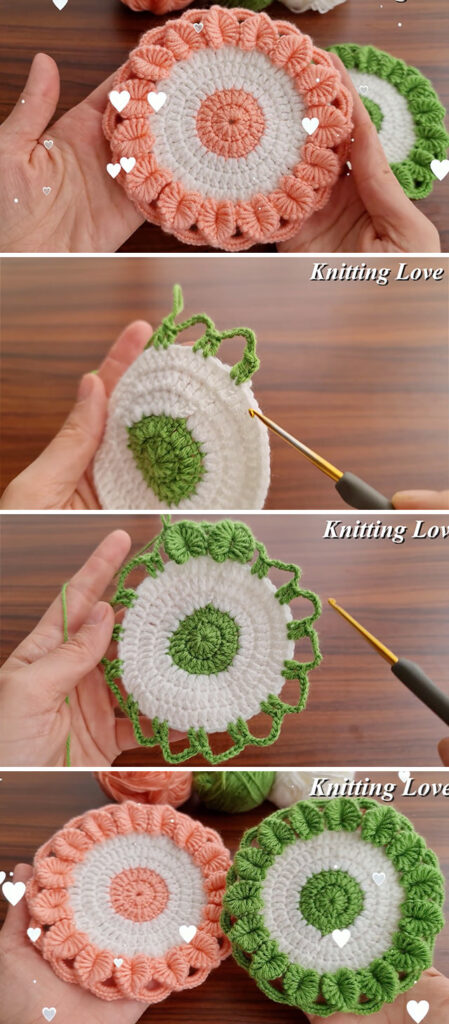 Step 2: Magic Ring
Make a magic ring by pulling the yarn through the slip knot, forming a small circle. This will be the center of your flower.
Step 3: First High Point (PA)
Chain three (chains count as your first double crochet), then crochet 11 more double crochets in the center of the magic ring. You should have a total of 12 double crochets including the three starting chains.
Step 4: Closing the Circle
Carefully pull the string tail of the magic ring to close it. Then join the first double crochet with the three starting chains using a single crochet. This will form a circle with 12 double crochets around it.
Step 5: Second Circle of High Points
To create the second circle, make three chains (they will count as your first double crochet) and make a double crochet in the same stitch you made the single crochet earlier. Then make two double crochets in each double crochet of the previous circle. Continue around the circle until you reach the point where you started. Join with a single crochet.
Step 6: Third Circle of High Points
Repeating the previous step, make three chains and a double crochet in the same point where you made the low stitch previously. Now, make three double crochets in each double crochet of the previous circle. Continue around the circle and join with a single crochet.
Step 7: Finishing the Flower
To finish the flower, cut the thread, leaving a small tail. Thread the tail through the last double crochet and pull to tighten. Use the tapestry needle to hide the loose ends inside the flower stitches.
Step 8: Customize your Flower
Now that you have a wonderful round flower, feel free to customize it! Add buttons, beads, or other yarn colors to give your creation a special touch.
Congratulations! You have successfully completed your beautiful crocheted round flower. Keep practicing and exploring new patterns to create amazing projects. Crochet is a wonderful way to express your creativity, and the possibilities are endless. Have fun crocheting!
If you liked this crochet yarn craft pattern, just below, we'll leave you with some more options for models of the most diverse crochet styles so that you can be inspired and hit the nail on the head, which style of crochet you will start with:
Access the full free crochet pattern
We at the We Love Crochet blog wish all our beloved readers a wonderful week, full of God's blessings in their homes, and of course, not least many skeins of yarn to crochet. A big hug to all, that's what we want. We Love Crochet.