Good morning my good friends from our dear crafts community. How are you doing on this beautiful day? I hope to find you all well, but if this is not the case, I hope whatever challenges you are facing right now, you can move over all of them. It is only normal to face difficulties, afterall we are only human. The important part is to face, shake out the bad things and move on. 
Why do we love baby items?
Rainbow Baby Blanket. If you are a recurrent visitor of this blog, you already realized that we are huge fans of baby items. Many of them a fit for beginners and they are also a great selling item.
Besides these pro points, they are so cute and because of that it is impossible to ignore baby pieces. 
When you first learn how to crochet a blanket, you want one that is quick and easy so you don't have to wait for weeks to see the results of your efforts.
As far as crochet baby blankets go, this one is a fast, easy crochet project. If this is your case, this project is perfect for you. 
This pattern is easy enough for beginners, but this is also a good pattern for crocheters of all skill levels who want a quick and easy project to work on.
This is a good crochet pattern for meditative crochet since it has an easy repeat and uses only basic crochet stitches.
It is the type of easy crochet baby blanket that you can work on when waiting in lines, sitting in the car, or watching television.
Regardless if it is you who is pregnant or someone else, a pastel rainbow baby blanket  is just the thing to highlight the cuteness factor.
That said, such blankets are also highly practical, because they are both warm and airy, and keep the little baby's temperature in an ideal range.
Careful about the line you pick
As we like to remind you, the yarns chosen for baby items deserve special attention. They need to be carefully picked because baby's skins are so sensitive and can easily develop rashes and allergies if the yarn is rough and has bad dying. We do not want that, so go for the smooth and hypoallergenic yarns.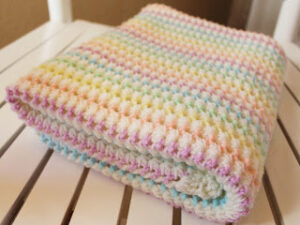 Looking for more patterns you can use in a blanket, check these ones:
Are you ready to start this blanket? I sure hope so. I fell in love with it, its simplicity and cuteness are undeniable. After you finished, please, tell me what you have done with it, was it for your own baby, as a gift or a good selling piece? You already kno, we love to interact with you and keep this community always growing and better each day. Have the most amazing day, I am anxious to see you in our next pattern already. See you!!