Good afternoon my dearest friends and colleagues! Please, be all welcome to We Love Crochet. This is a space of love, dedication and creativity. And, we love to notice that each day that passes by, more and more crochet lovers and enthusiasts show up to make our community even better?
Crochet, like any kind of craft, is a great idea to relax, pass the time and even make a little extra money at the end of the month. Besides, how can you deny the love and caprice that only handmade things carry? It is no wonder that they have been conquering more and more fans, whether producing or consuming these pieces.
Starting a new hobby can be really cool. But it's not always easy to research and gather the essential information to learn the basics. If your plan is to learn to crochet, you are in the right place.
We have many ideas to help you to start the creative process. 
A popular Winter item
Chunky Ribbed Beanie. As for today, we are happy to bring a wintery suggestion. This is a beginner level item. If you liked this item but you have more practice, you can challenge yourself by adding more colors and finishings, like a different yarn, maybe even a glittery one or add some buttons. 
It is nice to be a little careful when picking the line you will use for this piece. Beanies are usually used for a long time. Therefore, if the line is too rough, it will cause some kind of rash, especially on the forehead of the person using it. Below, you can check the materials you will need:
Size 5 Bulky Weight Yarn 

10mm crochet hook

Your pair of scissors

Yarn needle

Pom pom maker (optional)
If you do not think this beanie is what you are looking for, no problems. We have many different ideas in our blog here. Maybe you already have a beanie you like, there are other wintery items you can give it a try.
If this is too easy for your skill level, we have more difficult patterns. A small browse around and you will find an endless universe of ideas and opportunities.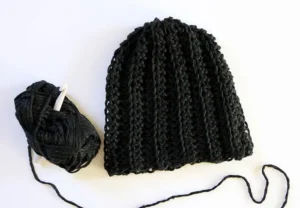 Check the this trending recipe here // Chunky Ribbed Hat  
More ideas to keep you warm
Do you wish to keep warm and styled with other crochet winter pieces? We have more recipe, check below:
Let me know how you have decided to keep yourself warm. Gloves or beanies, or maybe both. We love to know how your crochet development is going. Another thing important for us is that you bring us what you would like to see more around here. What are the pieces you want to give it a try, think about it and write them in the comments, we are happy to bring them to you. For now, have a beautiful day and a blessed week.