Good morning my lovely friends, it is time to rise and shine and get ready for a brand new day! How have you been doing lately? If you are a frequent reader of our blog, you already know we like to always check how you are going. Your state of mind and spirit impacts on how we produce our craft pieces.
Granny Shawl. Today, our project brings a very nostalgic feeling with it. As the name itself says, this shawl has granny written all over it.
And it does remind, not only the shape of this shawl is the one typical for grandmothers, the fact that it is made out of crochet just enhances this.
It is not true that every grandmother knows how to crochet. But many of them know. And many of them who don't know, buy from those who do. Grandmother and crochet even seem synonymous.
Casa de Vó is a place where it is difficult to find out which company supplies the gas cylinder or the gallon of water, since they are always covered with a decorated and well-made crochet cover. 
Crochet is also present in tablecloths and dishcloths, hand towels in the bathroom and even in covers used to cover – and mainly to decorate – toilet lids. A unique and characteristic decoration of grandmothers.
"Grandma's house" is something that touches all the senses that we have in the human body and any other esoteric, transcendental, spiritual or other senses.
Sight, smell, taste, touch and hearing join the most diverse forms of affective memory, in a mix of sensations that no other place in the world is capable of providing.
This shawl is perfect for you who are a beginner, but want to produce a whole piece. If you are more advanced and yet want to challenge yourself, you can add more colors and try to create different patterns, they will bring an extra charm for your final item. Keep visiting this blog for more ideas, see you in our next post. Bye-bye!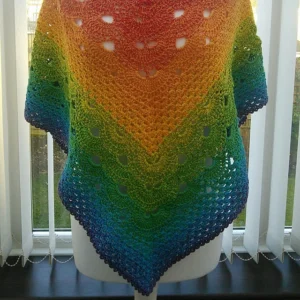 Below. we have more crochet ideas:
Access here the recipe for this shawl // Granny Shawl
We wish all our dear and beloved readers an excellent week, full of God's blessings in their homes, good health, peace, love, harmony, and especially a lot of handicrafts for everyone's enjoyment.
With great affection, We Love Crochet!