Hello dear crocheter, here is a simplified and persuasive step-by-step guide to making an adorable cupcake-shaped crochet hat. It doesn't matter if you're a beginner or an experienced crocheter, this project is perfect for anyone. Let's start!
Step 1: Required Materials
A ball of yarn of your choice in a cupcake color (pink, blue, brown, etc.).
A ball of yarn in one color of icing (white, cream, yellow, etc.).
Crochet hook of the appropriate size for the chosen wool.
Scissors.
Tapestry needle for sewing and hiding the ends.
Step 2: Preparation
Start by choosing the color of your cupcake hat (cake color) and the color of the frosting. Remember that contrasting colors work best to make the pattern stand out.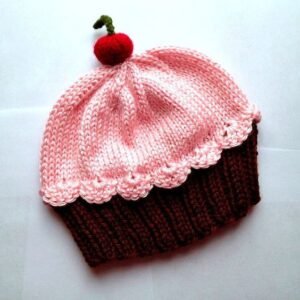 Step 3: Hat Base (Cupcake)
Make a magic ring.
Work 6 double crochets (sc) inside the magic ring.
Pull the thread to close the circle.
Work 2 sc in each base stitch (total of 12 sc).
Continue gradually increasing until you have the desired size for the base of the hat. This will create the cake shape of the cupcake. Remember, the more increases you make, the larger the hat will be.
Step 4: Hat Height
Work a full round of sc with no increases.
Repeat the previous step until you reach the desired height for your cupcake hat. This will cause the hat to curve upwards.
Step 5: Icing
Change to the frosting color.
Work a full round of double crochets (dc) into the top of the hat to create the icing effect.
Step 6: Finishing
Finish the last row with a slip stitch (sl st) and cut the thread, leaving enough end to sew.
Use the tapestry needle to sew the top of the hat, closing it completely.
Step 7: Embellishments
Now, it's time to decorate your cupcake hat! You can add sprinkles, pearls, ribbons or other details to personalize it according to your creativity.
Step 8: Enjoy your Cupcake Hat!
Now that your cute crochet cupcake hat is ready, put it on and show off your unique style to the world. It's a fun and rewarding project that anyone can do.
Have fun crocheting your cupcake hat and share your work with pride! This adorable accessory will delight everyone around you. Happy crocheting!
If you liked this crochet yarn craft pattern, just below, we'll leave you with some more options for models of the most diverse crochet styles so that you can be inspired and hit the nail on the head, which style of crochet you will start with:
Access the full free crochet pattern
We at the We Love Crochet blog wish all our beloved readers a wonderful week, full of God's blessings in their homes, and of course, not least many skeins of yarn to crochet. A big hug to everyone, that's what we want. We Love Crochet.