Hello my friends, it is time to rise and shine. We have a new project to start! How are you today? Let's start then, today we wanted to bring one more Winter accessory. We are coming closer to the coldest season of the year and nothing is more fair than to start to get ready for it.
Winter crochet accessories
This versatile accessory uses a small amount of yarn (depending on size) and can be great for that makeover. They're also the perfect accessory for a variety of styling options.
Despite all the pros of having a crochet outfit in your closet, it still might not seem so easy to combine the piece with other elements. But do not worry, here are some tips for you to rock the trend.
First, start by thinking about the weather. If you are thinking of buying a crochet outfit in the summer, opt for pieces with threads that are not too heavy or those that have a certain type of transparency – they will keep you cool and comfortable in the heat. 
Here, you can even wear and abuse the crochet bikini trend. But if you are in winter, our tip is to invest in a third crochet piece that will become the highlight of the look, such as coats and cardigans.
Finally, you can keep your shawl conveniently out of the way by tying it around your waist. Bending and moving is much easier with a shawl tied around your waist.
If you want to wear it, you'll have to adjust the way you wear the shawl throughout the day. You can tuck the longer ends around your waist while letting the triangle end fall down your back.
Whether in autumn or winter, the shawl will go great in all styles, as well as keeping you warm. It is a joker piece for cold days that is worth having a piece (or more) in your wardrobe.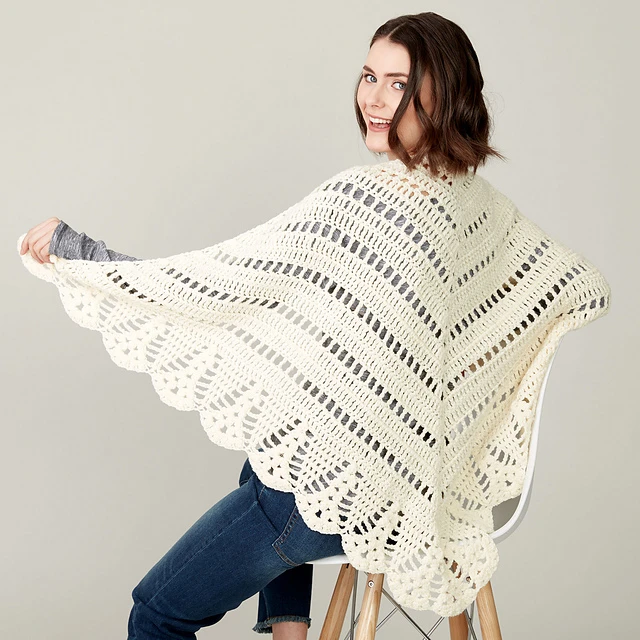 The crochet shawl goes with everything! You will be impressed with the different and stylish combinations that this piece can compose.
Check here the pattern for this piece // Prayer Shawl  
We have other wintery pieces in our blog, like these ones:
Are you feeling warmer already? This is the kind of piece that makes us feel more comfy and special. A great way to offer as a gift to our loved ones in sign of affection. Start getting ready for the Winter now! Have the best time making it, see you soon, bye-bye.