Fingerless Gloves. Hello there, my fellow friends of this crochet world. How have you been doing these days? More than anything, I hope this post finds everybody healthy and great. And if this is not the case, I hope that you can overcome any challenge that shows up at your door. It is only human not being one hundred percent all the time. 
But, it is important to keep in mind that no harm lasts forever. And, even if it may seem that we are facing the worst difficulties, there is always a way out. So, if you are sick or feeling a little blue, if someone near you is going through some rough patch, do not let this define your life. Be brave and face these challenges. They will only make you stronger. I am sure of that. 
Fingerless Gloves. If you are a recurrent visitor to this dear blog, you may have already realized how we like to vary the many patterns and projects we bring here. We are a team, keeping this blog as updated as possible. And for that, we enjoy presenting you patterns with different levels of skills and practice.
These fingerless gloves have a little more difficult stitch, however the composing of the piece is relatively easy. Therefore, this is a nice option if you are a beginner, but have already enough practice to take chances in more complex stitches. Overall, it is still an easy item to produce but the stitches themselves present a challenge.
Another thing I noticed about these is the timing. We are reaching the middle of the fall, the temperatures are falling each day. We know it will not be long before the winter is here. Depending on where you live, you may already experience considerably lower temperatures and cold weather.
So the fingerless gloves are a great option to practice and have some pieces ready. They are practical and you make them quite fashionable if you pick the right colors. If you want this piece available for selling, maybe it is better to keep your colors neutral, shades of gray, brown, white and black are safe bets do please anybody.
 As for the yarn, you are going to want to choose a comfortable to touch line. Something that does not feel rough and could cause rashes on the skin. It is also important to keep in mind that a washable line, since we use our hands for many, many things, these gloves are going to get dirty. So, these gloves need to be washable, in order to keep the hygiene, right?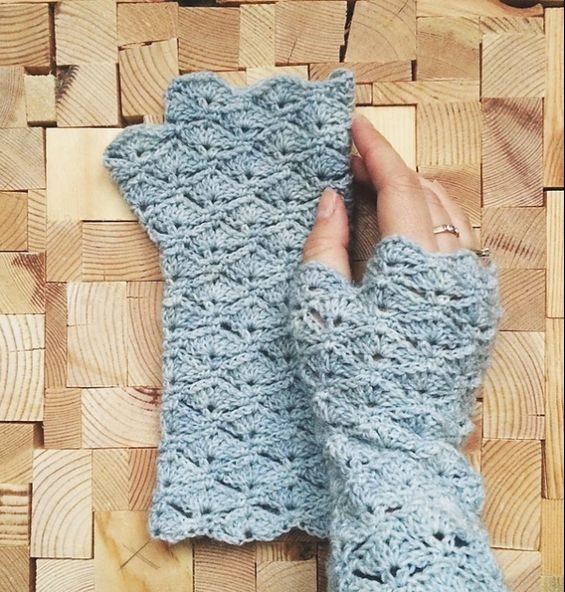 Check here the pattern // Fingerless Gloves 
In the link we attached in this post for you, you will find a carefully written tutorial to guide you through the making process. If you are a beginner-to-be-intermediate, I am sure this will help with the stitches. I hope this is a pattern that will help you to level up your crochet skill set. See you guys in our next amazing project. Until then, lots of light and blessings. Keep crocheting and spreading beauty!