Gingerbread Baby Set: Crocheting baby sets is a delightful way to create adorable and cozy outfits for the little ones in your life.
The gingerbread crochet baby set is a charming and festive choice, evoking the warmth and sweetness of everyone's favorite holiday treat. In this article, we'll explore the charm of the gingerbread crochet baby set and why it is a perfect project for creating cute and cuddly ensembles.
Gingerbread Inspired: Whimsical and Festive
The gingerbread crochet baby set draws inspiration from the beloved gingerbread cookies that are synonymous with the holiday season. The set typically includes a hat, booties, and sometimes a matching diaper cover or dress. These charming pieces are designed to resemble gingerbread cookies, complete with cute embellishments such as buttons, bows, or crochet appliques that mimic icing details.
Crocheting a gingerbread baby set adds a touch of whimsy and festive spirit to your crochet projects. The delightful gingerbread theme is perfect for holiday photo shoots, family gatherings, or simply for keeping your little one cozy and stylish during the colder months.
Adorable and Cozy: Perfect for Baby's Comfort
One of the great advantages of the gingerbread crochet baby set is its combination of adorableness and coziness. The set is carefully crafted to provide both style and comfort for babies.
The hat keeps their little heads warm, while the booties provide softness and protection for tiny feet. The optional diaper cover or dress adds an extra layer of cuteness to complete the ensemble.
Crocheted with soft and gentle yarn, the gingerbread baby set is designed to be gentle on delicate baby skin. The snug fit and comfortable materials ensure that babies can move and play freely while staying warm and cozy. This makes the gingerbread crochet baby set a practical choice for everyday wear or for special occasions.
Materials for Crocheting the Gingerbread Baby Set
To crochet your own gingerbread baby set, you will need the following materials:
Yarn: Choose a soft and cozy yarn suitable for babies, such as baby-weight or sport-weight yarn. Opt for colors that resemble gingerbread cookies, such as brown, tan, or warm shades of red and green.
Crochet Hooks: Select crochet hooks that correspond to the recommended gauge of the yarn you've chosen. Refer to the pattern instructions for the specific hook sizes required.
Embellishments: Gather buttons, ribbons, or crochet appliques that resemble gingerbread cookie decorations. These embellishments will add an extra touch of sweetness and detail to your baby set.
Stitch markers: These handy tools will help you keep track of your stitches and pattern repeats, ensuring a neat and symmetrical final result.
Scissors: A sharp pair of scissors is essential for cutting the yarn and trimming any loose ends.
Before starting your gingerbread crochet baby set, make sure you have all the necessary materials prepared. Having everything ready will allow you to fully immerse yourself in the joyful process of crocheting.
In conclusion, the gingerbread crochet baby set offers a delightful combination of sweetness and warmth for the little ones in your life. With its whimsical design and cozy materials, it is a perfect project for creating adorable and cuddly ensembles. By selecting the right materials and investing your creativity, you can crochet a charming gingerbread baby set that will keep your little one snug and stylish.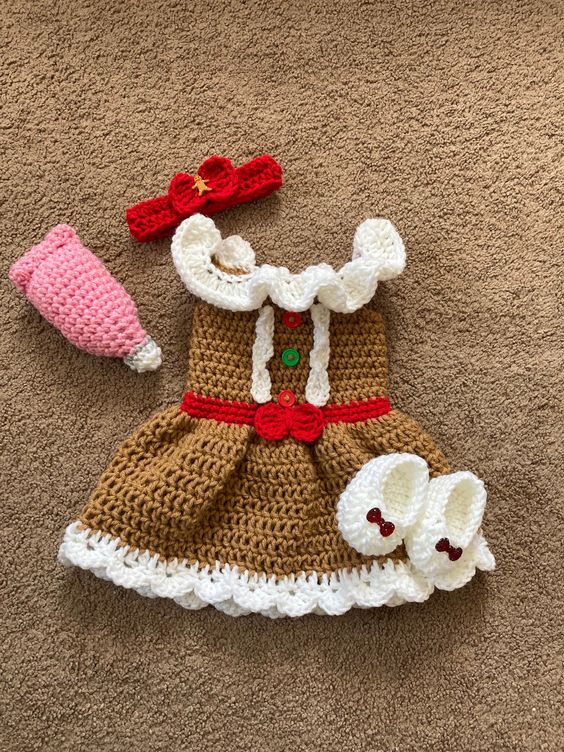 Access the free Crochet Pattern
And if you liked this pattern, but still want to see some more options of models of the most different crochet projects, below I will leave other free options for you to view:
It is with great respect to all our followers that the blog We Love Crochet Patterns wishes you all an excellent week, full of God's blessings in your homes, much peace, joy, harmony, and especially many, many threads to start more a crochet yarn craft project.
With love and affection, We Love Crochet Patterns!