You must have already realized that crochet will enter your life for good, right? The pieces in this style are back with everything and are far from going out of fashion, so take the opportunity to squander beauty and delicacy wherever you go. 
And if you want to keep that vibe going, you can add so many different accessories to your daily looks.
You can browse around here for a few minutes, you will find many clothing and accessories to include the crochet on a daily basis. You can also check below, some pieces we already separated for you.
Anyone who loves fashion knows that accessories are important to complete the look and make it even more amazing.
And the crochet tiara is once again a darling accessory for celebrities and bloggers who seek to create a more casual look. Check out how to add this piece to your everyday life and see tutorials to get inspired to make your own piece!
Coming straight from the catwalks of big brands, crochet has fallen into the taste of fashionistas around the world. The crochet headband is a super stylish piece and if you want to get on that wave, we've separated amazing photos for you to use as inspiration. Check out!
Crochet is an art that can be easily learned and with it you can create amazing pieces. A crochet headband does not have to be something highly elaborate to be beautiful: with little work, you can make a wonderful piece to add to your style.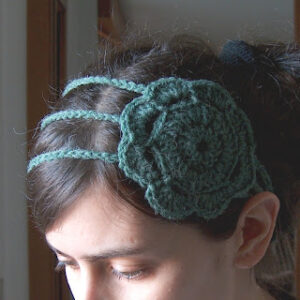 Here are some more crochet accessories recipes you may enjoy:
In the end, this is just another great way to present someone you like, make some extra money and add and love crochet techniques a little bit more. We suggested the Simple Flower Corsage as well. We thought this can be a twist in your headband if you want to change some details. Have a great day, full of ideas and love! See you in our next posts, until then, lots of blessings!!