African flower: Crocheting flowers is a delightful way to add a touch of nature's beauty to your craft projects. Among the various flower patterns, the crochet African flowers stand out for their vibrant colors and unique shape. In this article, we'll explore the charm of crochet African flowers and how they can be incorporated into a variety of creative endeavors.
Crochet African flowers are inspired by the rich and diverse cultural heritage of the African continent. These flowers are known for their bold and vibrant colors, reflecting the lively spirit of African art and design. With their intricate patterns and textured petals, these flowers bring a sense of energy and liveliness to any crochet project.
Whether used as standalone motifs or combined to form larger pieces, crochet African flowers create a visual feast for the eyes and evoke a sense of joy and celebration.
One of the great advantages of crochet African flowers is their versatility in design and application. These flowers can be crocheted in various sizes and shapes, allowing for endless possibilities in creativity.
From small and delicate blossoms to large and eye-catching blooms, the African flower design can be adapted to suit different projects and preferences.
Crochet African flowers can be used in a multitude of ways. They can be incorporated into blankets, pillows, and afghans, adding a pop of color and texture. These flowers also make beautiful embellishments for hats, headbands, and bags, bringing a touch of whimsy and style to your accessories.
Additionally, they can be transformed into brooches or appliques, allowing you to personalize garments or home decor items with a unique African flair.
To crochet your own African flowers, you will need a few essential materials:
Yarn: Choose a variety of yarn colors that capture the vibrancy and spirit of African art. Cotton or acrylic yarn is recommended for its durability and ease of use.
Crochet Hook: The size of the crochet hook will depend on the weight of your chosen yarn. Refer to the yarn label or pattern instructions for the recommended hook size.
Scissors: A sharp pair of scissors is necessary for cutting the yarn and trimming any loose ends.
Tapestry Needle: This needle is used for weaving in the loose ends and assembling your crochet pieces.
Gather all the necessary materials before embarking on your crochet African flower project. Having everything prepared will allow you to fully immerse yourself in the creative process.
In conclusion, crochet African flowers offer a burst of color, vibrancy, and cultural richness to your crochet projects. Their versatility and eye-catching appeal make them a popular choice among crafters worldwide. With the right materials and a passion for crochet, you can create beautiful African flowers that will bring joy and creativity to your handmade creations.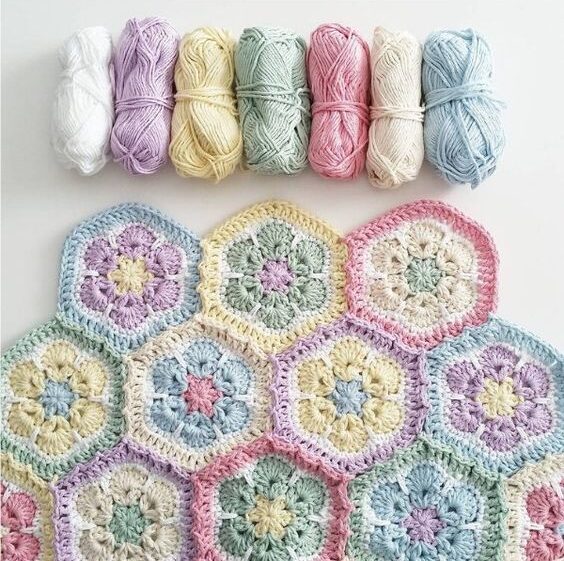 Access the free crochet patterns PART 1 and PART 2 
And if you liked this pattern, but still want to see some more options of models of the most different crochet projects, below I will leave other free options for you to view:
It is with great respect to all our followers that the blog We Love Crochet Patterns wishes you all an excellent week, full of God's blessings in your homes, much peace, joy, harmony, and especially many, many threads to start more a crochet yarn craft project.
With love and affection, We Love Crochet Patterns!