Simple Flower Corsage. Good morning my beloved friends of our community. What it is to have here with us one more day. New day, new project, is it not? And, how is the mood to start something new? We believe it is important to keep the ideas coming, in a way of freshening up our minds and keeping them sharp. 
Crochet is a craft technique used for many years to make the most varied items and accessories, both for the home and for clothing. Craftsmanship enriches the composition of a space, which can be more classic, rustic or romantic.
If you appreciate all the whimsy and charms of crochet, the crochet flower will surely delight you.
You can crochet flowers with a variety of types of yarn. And since crochet flowers are such small projects, they're great for using up small amounts of scrap yarn that you have in your yarn stash.
This is a perfect opportunity to give some use to the leftovers you may have from previous projects. 
You can crochet flowers with acrylic yarn, cotton yarn, or wool blend yarns. If you're not sure which yarn to choose, read the pattern to find the designer's recommendations.
Crochet flowers are the perfect way to add a touch of personality to any project. They can be used as embellishments on crochet hats, scarves, blankets, and more. 
Here are a few project ideas that you can make with crochet flowers:
Crochet Flower Bouquet: Make a bouquet of crochet flowers. You can use dowel rods or floral wire to make stems for your flowers. Then, arrange them in a vase or mason jar.

Coffee Cup Sleeve: Decorate a coffee cup sleeve with a crochet flower or two.

Crochet Flower Hair Clips: Use hot glue to attach crochet flowers to clips or bobby pins.

Crochet Flower Wreath: Arrange crochet flowers on a grapevine or floral foam wreath to hang on your door.

Crochet Flower Headband: String flowers on a long piece of yarn to make a crochet flower garland.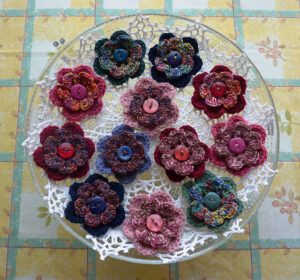 This flower requires a beginner's level of skill, so it is quite easy to make them. If you are more advanced, you can add more details to enrich your flower even more. However, if you are looking for something more challenging, no problem. You can browse for a few minutes and you have many other options in your blog. 
For now, let me know how you decided to use the beautiful flowers you will make. There are so many options that I am curious about how you are going to put your creativity to use. Besides that, you already know, we love to interact with all of you. I hope to see you in our next project, until then, many blessings and good-bye!