Hello dear reader, here is a simple and persuasive guide to crochet mittens. Let's get started creating a pair of cozy mittens that anyone can make. Remember, practice will make your crochet better and better, so don't be afraid to try!
Step 1: Preparation
Before you begin, you will need some basic materials: wool yarn in the color of your choice, a crochet hook suitable for the size of the yarn, and scissors. Make sure the needle matches the recommended size on the yarn label.
Step 2: Measurement
Place your hand on a sheet of paper and draw the outline. This will help you determine the size of the gloves. Then measure the length of your fingers and the circumference of your hand to get an idea of the dimensions needed.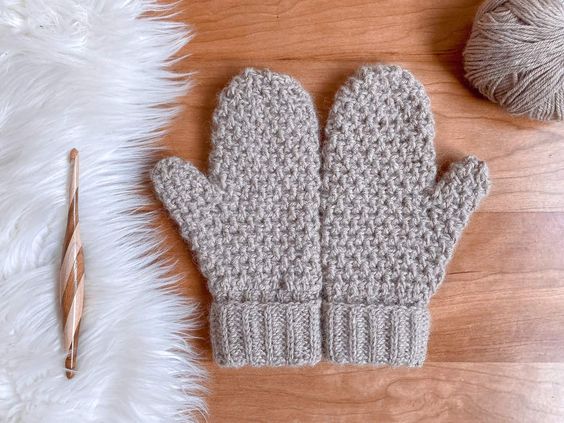 Step 3: Start
Make a slip knot with the yarn on the crochet hook and create a base chain with the number of stitches that corresponds to the circumference of your hand.
Step 4: High Point Careers
Start double crochet in the second chain from the hook and continue until you form a band that covers the top of your hand. Remember to add stitches to accommodate your fingers.
Step 5: Fingers
Separate the stitches for the fingers, creating openings in the work. Continue working double crochet rows to form each finger until they are the desired length.
Step 6: Fist
After completing the fingers, go back to working on the top of the glove to create the cuff. Work double crochet rows so that the cuff is comfortable and fits the wrist.
Step 7: Finalization
Cut the thread, leaving a piece long enough to sew the sides of the glove. Use the crochet hook to bring the sides together, leaving room for your thumb. Then sew the thumb opening.
Step 8: Finishing
Give your gloves a finishing touch by hiding any loose thread ends and trimming the excess with scissors.
Now you have a pair of crochet gloves lovingly made by yourself! These gloves will not only keep your hands warm but also show off your crochet talent. Remember that practice makes perfect, so don't hesitate to make more pairs to improve your skills. Have fun crocheting!
If you liked this crochet yarn craft pattern, just below, we'll leave you with some more options for models of the most diverse crochet styles so that you can be inspired and hit the nail on the head, which style of crochet you will start with:
Access the full free crochet pattern
We at the We Love Crochet blog wish all our beloved readers a wonderful week, full of God's blessings in their homes, and of course, not least many skeins of yarn to crochet. A big hug to everyone, that's what we want. We Love Crochet.