Hello my friends, it is time to rise and shine in our crochet world. And, how are you doing on this amazing day? Do you have the habit of planning your day ahead, in advance? Can you keep up with the schedule? I ask that, because I know how hard it is to keep under schedule sometimes. Yet, unforeseen are part of life, are they not? 
Quiver Toddler Dress. It will not be first nor the last time you read us writing about how much we love babies and children's items. They are fairly easy to make, easy to present as gifts and for that, easy to sell.
Many of us start crochet as a therapy or a manner to get some extra money at the end of the month. Crochet is a beautiful art and very versatile, allowing us to create many beautiful pieces. This Quiver Toddler Dress is a unique piece and its pattern brings a special touch to it.
Here is a list of the materials you will need:
Worsted Weight Cotton Yarn (300 yards)

H 5.00mm Crochet Hook/I 5.50mm Crochet Hook

2 Buttons

Ribbon

Yarn Needle
In addition, it is never too much to remind you my friends of the importance of the yarn chosen. This piece is not for babies specifically, but we must be careful with all pieces that are going to be in contact with human skin in general. Besides, a toddler's skin can be quite sensitive as well. Along with that, the yarn needs to be washable, once toddler clothes tend to get easily dirty.
 We also have many other recipes for babies and toddlers, you can access them right below:
Isn't this piece gorgeous? I hope you fell in love with it, just like we did. The tutorial is carefully written and I am sure it will help with the making process. I understand that it may be a challenge, because we can use many colors and changing the yarn many times in the same piece can be difficult if you are used to it.
However, this piece is a nice chance to test this ability of yours. You can begin with one or two colors and from there you add a new color each time you make a new dress with this pattern. With time, you will realize how fast you start to finish your pieces. Now you have a parameter to compare your skill development.
At this point I think we have convinced you to put your hooks and needles to work in this project, have we not? Lastly, enjoy the beautiful tutorial we have brought here. And, do not forget, we have many other ideas you can access and give it a try. See you soon, have a blissful day, full of the best things. Bye-bye!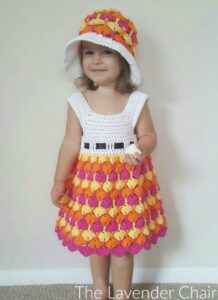 Check here the pattern // Quiver Toddler Dress  
And if you liked this pattern, but still want to see some more options of models of the most different crochet projects, below I will leave other free options for you to view:
It is with great respect to all our followers that the blog We Love Crochet Patterns wishes you all an excellent week, full of God's blessings in your homes, much peace, joy, harmony, and especially many, many threads to start more a crochet yarn craft project.
With love and affection, We Love Crochet Patterns!