Good morning my friends, it is time to rise and shine and crochet. I hope this post finds you well and healthy. Today, we decided to bring you a themed project. We are a month from Thanksgiving, and we could have not picked a better project than this Turkey Amigurumi.
Learning handcrafts like crochet can bring you joy for a lifetime. The skills gained offer you the chance to exercise your creativity while challenging you to produce bigger and better things. Although the endless possibilities might seem daunting, crochet is easy to get started.
What is Amigurumi?
There are just a couple of tools and basic techniques you need to know. From there, you can grow increasingly advanced in your work and try different facets of the field.
Hop onto any popular craft DIY website and there is a good chance you will find a section dedicated to a trend that is still expanding after well over a decade: Amigurumi.
If it seems unlikely that a miniature combination of yarn, stuffing and bright colors  could dominate an entire arts and crafts genre, that is because nothing quite like it has been before. It is a fresh concept built on a marriage of cultural aesthetics and even better, it is adorable.
Of Japanese origin, the word amigurumi means "crochet stuffed animals". This is a craft technique that is capable of creating various little animals, as well as stars, flowers, dolls, among many other things using few materials.
In addition to gifting or creating for yourself, amigurumi is a great craft opportunity for extra income.
Some believe that it actually originated in China, as there are records of small toys being crocheted during the time of one of the earliest ruling dynasties.
It wasn't until the early 17th century that the technique came to be used in Japan as a result of trade with the Dutch, who introduced the Japanese to the craft of knitting.
When you're first learning crochet, scarves are a popular place to start; after all, it's simply a long rectangle! But once you grow more comfortable with your crochet hook and are ready to take on more challenging projects, there are ways to create your own small sculptures.
Using the techniques of amigurumi, you can construct plush toys that are as cute as they are fun to make.
The perfect setting for you thanksgiving table
This Turkey is perfect for the upcoming Thanksgiving, next month. It is a time to gather the family, put on a beautiful table and harvest and last, but not least, time to be thankful for the blessings we have reached so far this year and the ones to come.
However, if this is too above your skill level, do not forget, we have many ideas here, just give it a few minutes and browse around, you will find something, for sure.
Check below the materials you will need:
Crochet Hook: 3.0mm & 4.5mm

DK Acrylic yarn in Dark Brown, Yellow, Brown, White and Red colors

Polyester fiberfill

12mm Black Safety Eye, 1 pair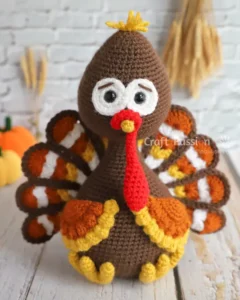 I hope you have enjoyed this small piece of Amigurumi history. If you are feeling confident to give it a try, check the link above. It is a carefully written tutorial, with pictures to help each step of the making process. I hope you have a joyful time doing this beautiful piece. See you in our next post, until then, much love and many blessings for us. Bye-bye!