Hello dear friends, how are you today? I hope this post finds you well, healthy and willing to learn something new. I also hope your day will be full of joys and fun things to do.
Crochet is a world made of so many different options. You can adapt it for a lot of distinct items and pieces.
Thinking about the adaptability of the crochet craft, we decided to bring you today the Afghan stitch, with a twist of zigzag detail. The original recipe is for a blanket.
Needless to say you do not need to get caught into the original recipe. What we bring for you is the initial idea of it all. I am sure you can adapt as you wish.
You can use the crochet Afghan stitch pattern for a variety of crochet projects! In the subject of crocheting clothes, your crochet can make an intricate Afghan knit shawl with beautiful blue and green toned colored yarn. You could even make a variegated Afghan knit stitch scarf like the beautiful example from the video tutorial.
The Afghan stitch is also known as Tunisian stitch and is a variable of crochet, with some knitting elements. If you are not already comfortable with holding a crochet hook, you might want to practice.
If you would like to try Afghan crochet but do not  have a proper hook yet, try using a regular crochet hook such as a circular crochet hook, a double-ended crochet hook, or a hook with a flexible extension at the end.
Afghan stitch is suitable for crocheting many different types of projects, including clothing, accessories, home decor, pet items, pot holders like those below, and more.
Once you're finished with this tutorial, you'll be ready to crochet any of these projects, plus many others.
If you pay attention, the yarn plays an important role. Especially if we want to make a big piece, such as a blanket or a throw.
And, if you are using the zig zag effect, different colors that create contrast will definitely help to enhance the beauty of the item even more. So, choose carefully the line you will use.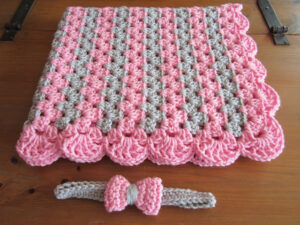 Below, you find other stitches that you can use to create all the items your creativity allows:
Did I convince you to give this beautiful pattern a try? Let me know in the comments what item you have decided to make. I think it is so nice to have this pattern that we can adapt for many pieces. We can make sets for decorations or clothes and the crochet is a unique touch. For now, I leave you wishing for a nice creative process, with many beautiful pieces as the final result. See you in our next creation, bye-bye!