FatBottom Granny Square Bag: Crochet is a versatile craft that allows you to create a wide range of beautiful and functional items. One popular project among crochet enthusiasts is the Granny FatBottom square bag.
This trendy accessory combines the timeless appeal of the Granny Square motif with a modern twist, resulting in a stylish bag that's perfect for any occasion. In this article, we'll explore the unique features and benefits of the Crochet Granny FatBottom square bag.
Vintage Charm with a Contemporary Edge
The Granny FatBottom square bag is a delightful blend of vintage charm and contemporary style. The classic Granny Square pattern, characterized by its colorful and intricately textured design, brings a nostalgic touch to this accessory.
However, what sets this bag apart is its modern twist—a larger, wider bottom that adds both visual interest and practicality. The FatBottom design ensures that the bag sits upright and offers ample space to carry all your essentials.
Versatility for Every Occasion
One of the greatest advantages of the Granny FatBottom square bag is its versatility. Whether you're heading to a casual outing, a formal event, or simply running errands, this bag is an ideal companion.
Its spacious interior can accommodate your wallet, phone, keys, and other personal belongings, while the sturdy crochet construction ensures durability and longevity. Moreover, you can easily customize the bag's size, color palette, and strap length to suit your personal style and specific needs.
Handmade Elegance and Sustainability
In a world dominated by mass-produced accessories, the Granny FatBottom square bag stands out as a symbol of handmade elegance. By crocheting your own bag, you not only create a unique and eye-catching fashion statement, but you also contribute to a more sustainable lifestyle.
By using your preferred eco-friendly yarns, you can reduce your carbon footprint and embrace a more conscious approach to fashion. Plus, the process of crocheting offers a therapeutic and rewarding experience, allowing you to unwind and express your creativity.
Materials for Crocheting a Granny FatBottom Square Bag
To create your very own Granny FatBottom square bag, you will need the following materials:
Crochet hook: Choose a hook size that matches the weight of your yarn and ensures a tight, sturdy stitch. The recommended hook size for a medium-weight yarn is usually between 4 mm (G-6) and 5.5 mm (I-9).
Yarn: Opt for a yarn that suits your preferences in terms of color, texture, and sustainability. Worsted weight or medium-weight yarn is commonly used for this project. Cotton or acrylic yarns are popular choices due to their durability and ease of maintenance.
Scissors: A good pair of scissors is essential for trimming yarn and weaving in loose ends.
Yarn needle: A large-eye yarn needle makes it easier to weave in ends and join the squares together.
Embellishments (optional): You may choose to add buttons, beads, or tassels to personalize your bag further.
By gathering these materials and following a Granny FatBottom square bag pattern or tutorial, you can embark on a delightful crochet journey and create a practical accessory that showcases your creativity and style.
In conclusion, the Crochet Granny FatBottom square bag is a must-have accessory for crochet enthusiasts and fashion-conscious individuals alike. Its unique combination of vintage charm and contemporary design, versatility, and handmade elegance makes it a standout piece. By choosing your preferred materials and embracing the art of crochet, you can create a bag that not only reflects your personal style but also contributes to a more sustainable and eco-friendly fashion industry.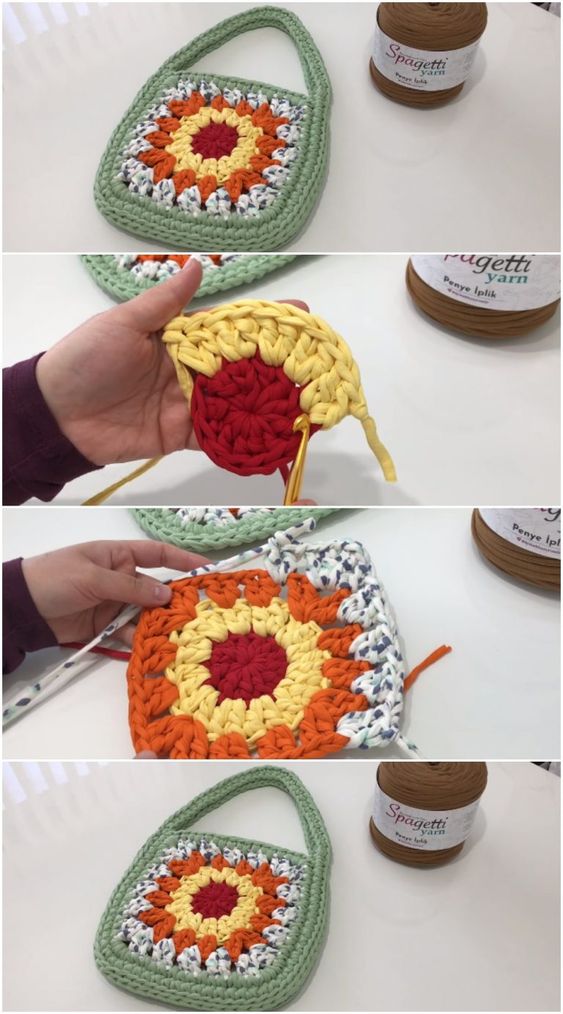 Access the free Crochet Pattern
And if you liked this pattern, but still want to see some more options of models of the most different crochet projects, below I will leave other free options for you to view:
It is with great respect to all our followers that the blog We Love Crochet Patterns wishes you all an excellent week, full of God's blessings in your homes, much peace, joy, harmony, and especially many, many threads to start more a crochet yarn craft project.
With love and affection, We Love Crochet Patterns!