Fairy Blossom Baby Booties: Crochet baby booties are not just practical items for keeping tiny feet warm and cozy; they can also be a delightful fashion statement. Among the many adorable designs available, crochet fairy flower baby booties stand out as enchanting creations that capture the hearts of both parents and little ones.
With their delicate petals, charming colors, and whimsical appeal, these booties add a touch of magic to any baby's wardrobe. In this article, we explore the beauty and charm of crochet fairy flower baby booties.
A Touch of Whimsy: Fairy-Inspired Designs
Crochet fairy flower baby booties are inspired by the ethereal world of fairies and nature. They feature intricate floral motifs, delicate petals, and often incorporate elements like leaves, vines, or even tiny butterflies.
The combination of soft yarns, pastel colors, and intricate stitch patterns results in booties that resemble a garden fairy's dream. Whether you choose a design with dainty flowers adorning the toe or opt for a more elaborate style with cascading petals, these booties will make your little one feel like they're walking on clouds.
Handmade with Love: A Personalized Keepsake
One of the most endearing aspects of crochet fairy flower baby booties is the love and care that goes into making them. Crafted by hand, each pair is a unique and personalized creation. Crocheters can choose from various patterns and modify them to suit their preferences, adding their own creative touches along the way.
These booties become more than just footwear; they become cherished keepsakes, symbolizing the time, effort, and love that went into their creation. Handmade with precision and attention to detail, crochet fairy flower baby booties make a meaningful gift for baby showers, birthdays, or other special occasions.
Versatile and Comfortable: Everyday Elegance for Little Feet
While crochet fairy flower baby booties possess an air of enchantment, they are also designed with practicality in mind. Made from soft, baby-friendly yarns, they provide warmth and comfort for delicate feet. The crochet construction allows for flexibility, ensuring a snug yet gentle fit.
The booties are often designed to be versatile, with adjustable straps or elasticized cuffs that keep them securely in place. Whether your little one is taking their first steps or simply needs a cozy accessory for their outfit, these booties offer a combination of elegance and functionality.
Materials for Crocheting Fairy Flower Baby Booties
To create your own crochet fairy flower baby booties, you'll need a few essential materials. Here's a list of items you'll typically require:
Yarn: Choose a soft, baby-friendly yarn in your preferred color palette. Opt for lightweight yarns suitable for the season and climate.
Crochet Hook: Select an appropriate crochet hook size that matches the yarn weight you've chosen. The hook size will depend on the pattern you're following.
Tapestry Needle: A tapestry needle with a large eye is essential for weaving in loose ends and finishing touches.
Scissors: A good pair of scissors will come in handy for cutting yarn and trimming loose threads.
Embellishments: Depending on the pattern, you may require additional materials such as buttons, ribbons, or beads for embellishing the booties.
Stitch Markers: These small markers help you keep track of stitch counts and pattern repeats, ensuring accurate and symmetrical results.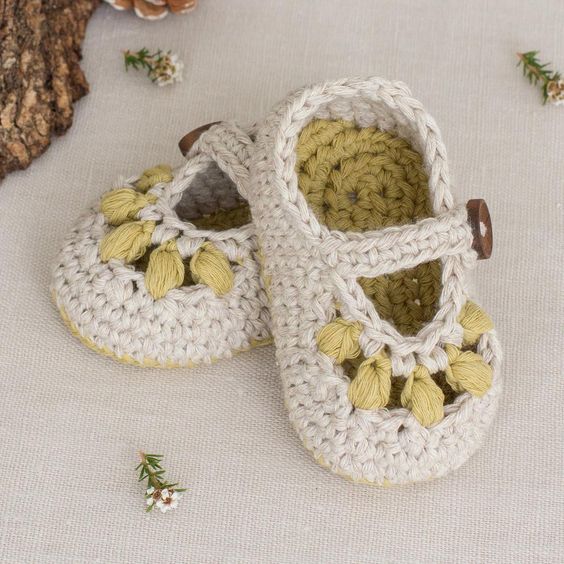 Remember to consult the specific pattern you're following for any additional materials or tools required. experience that allows you to express your creativity while crafting a beautiful and functional item for a precious little one. So gather your materials, choose a lovely pattern, and let your crochet hook bring to life the magic of fairy flower baby booties. Your little bundle of joy is sure to look adorable with these enchanting creations adorning their tiny feet. Happy crocheting!
Access the free Crochet Pattern.
And if you liked this pattern, but still want to see some more options of models of the most different crochet projects, below I will leave other free options for you to view:
It is with great respect to all our followers that the blog We Love Crochet Patterns wishes you all an excellent week, full of God's blessings in your homes, much peace, joy, harmony, and especially many, many threads to start more a crochet yarn craft project.
With love and affection, We Love Crochet Patterns!