Crochet Dress and Booties. Good afternoon my dearest colleagues of this great crafts world! It is awesome to have your company for this new project we selected specially for you.
I hope this post finds you all well and blessed. Since you all enjoyed we bringing new crochet ideas, today we decided to come with yet another crochet recipe.
Crochet is a technique that allows you to transform wool and yarn into incredible pieces of decoration, accessories and clothing for all ages.
Children's clothes, for example, are an excellent alternative if you want to earn money with crochet.
Through crochet, it is possible to participate in social projects and bring hope and lightness to those facing difficult times. This is the case with the crochet Octopuses, which help premature babies to feel warm and cuddly during the time they need to stay in the incubator. 
Recently, a new project conquered the solidarity crocheters. The yarn wig is a playful way to restore self-esteem and bring joy to children who fight cancer.
And you, have you ever thought about using your crochet to do good?
Crochet clothes are part of a tradition that, even today, conquers the eyes of fathers and mothers. In addition to beauty, the durability of the pieces and the versatility of crochet are great advantages that you should take into account.
We brought you two links today. Together they can form a cute set for babies. Dress and booties are a must have in babies' closets.
Because of that, this set is for sure a great sale item, also, a good item to present as a birthday or christening gift. Make the best out of these recipes, we are sure you are going to rock it. Cannot wait to meet you in our next creation!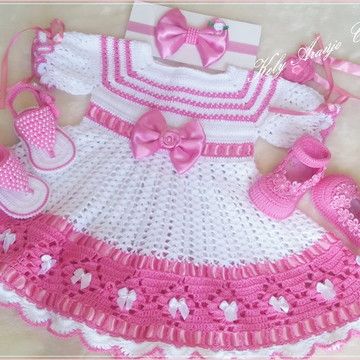 More lovely crochet baby items below:
We wish all our dear and beloved readers an excellent week, full of God's blessings in their homes, good health, peace, love, harmony, and especially a lot of handicrafts for everyone's enjoyment.
With great affection, We Love Crochet!