Hooded Cardigan: Crocheting your own clothing is a rewarding way to showcase your creativity and style. Among the many crochet garment options, the crochet hooded cardigan stands out as a versatile and fashionable choice. In this article, we'll explore the charm of the crochet hooded cardigan and why it is a must-have piece for your wardrobe.
The Hooded Cardigan: Cozy Comfort with a Fashionable Twist
The crochet hooded cardigan combines the warmth and comfort of a cardigan with the practicality and style of a hood. This unique combination makes it a versatile and trendy outerwear option for various seasons.
Whether you're looking to add a cozy layer to your outfit on a chilly day or seeking a stylish cover-up for a casual or bohemian look, the hooded cardigan is a perfect choice.
The hood adds an extra touch of coziness, making it ideal for those colder days when you want to keep your head warm and protected from the elements. The cardigan design allows for easy wear and layering, making it a go-to piece for transitioning between seasons or adding a stylish accent to your ensemble.
Versatility in Design and Style
One of the great advantages of the crochet hooded cardigan is its versatility in design and style. There are countless variations and patterns available, allowing you to find the perfect cardigan that matches your personal taste and fashion preferences.
From lightweight and lacy designs for warmer weather to chunkier and more textured options for colder seasons, the possibilities are endless.
The hooded cardigan can be customized to suit your desired length, sleeve style, and closure method. Whether you prefer a longer cardigan that falls below the hips or a cropped style that adds a trendy touch to your outfit, the choice is yours. You can also experiment with different stitch patterns, color combinations, and yarn choices to create a cardigan that is uniquely yours.
Materials for Crocheting the Hooded Cardigan
To crochet your own hooded cardigan, you will need the following materials:
Yarn: Choose a yarn that is suitable for the desired weight and drape of your cardigan. Consider the season and climate when selecting the fiber content and thickness. For lightweight cardigans, cotton or bamboo yarns work well, while wool or acrylic yarns provide warmth for cooler weather.
Crochet Hook: The size of the crochet hook will depend on the yarn weight you've chosen. Check the yarn label or pattern instructions for the recommended hook size.
Buttons or other closures: If your cardigan includes a front opening, gather buttons or other closure options that complement the style and design of your garment.
Stitch markers: These helpful tools will assist in keeping track of your stitches and pattern repeats, ensuring a neat and symmetrical final result.
Scissors: A sharp pair of scissors is essential for cutting the yarn and trimming any loose ends.
Before beginning your crochet hooded cardigan project, ensure you have all the necessary materials ready. This will make the crocheting process more efficient and enjoyable.
In conclusion, the crochet hooded cardigan is a versatile and fashionable garment that offers both comfort and style. With endless design possibilities and the ability to customize it to your preferences, you can create a cardigan that is uniquely yours. With the right materials and a passion for crochet, you'll have a cozy and fashionable outerwear piece that will be a staple in your wardrobe.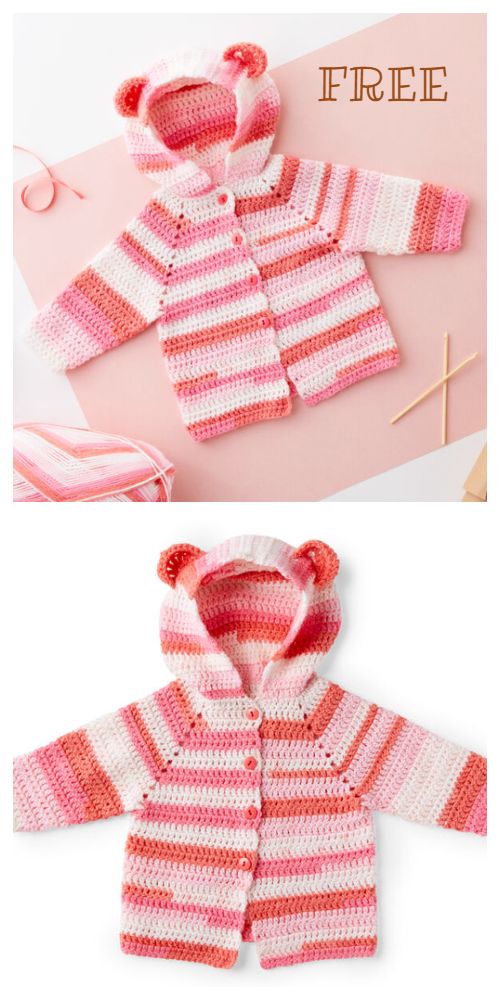 Access the free Crochet Pattern
And if you liked this pattern, but still want to see some more options of models of the most different crochet projects, below I will leave other free options for you to view:
It is with great respect to all our followers that the blog We Love Crochet Patterns wishes you all an excellent week, full of God's blessings in your homes, much peace, joy, harmony, and especially many, many threads to start more a crochet yarn craft project.
With love and affection, We Love Crochet Patterns!