Sedge Stripes Baby Blanket: Crocheting a baby blanket is a special way to create a cherished item for the little ones in your life. The crochet sedge stripes baby blanket is a popular choice, known for its cozy warmth and stylish design. In this article, we'll explore the charm of the sedge stripes pattern and why it is an ideal project for crocheters looking to make a beautiful and functional blanket.
The sedge stripes pattern is a classic crochet stitch that creates a textured and visually appealing design. With its alternating rows of raised and flat stitches, this pattern adds a touch of simple elegance to any crochet project.
When used in a baby blanket, the sedge stripes pattern not only provides a cozy and warm cover but also showcases a stylish and timeless aesthetic. The combination of texture and stripes creates a captivating design that will be loved by both babies and parents alike.
One of the great advantages of the crochet sedge stripes baby blanket is its versatility. The pattern can be easily adapted to suit different preferences and needs. You can choose to crochet the blanket in a single color for a classic and understated look or use multiple colors to create a vibrant and playful design.
The width of the stripes can also be adjusted to your liking, allowing for further customization. Additionally, the sedge stripes pattern works well with various yarn types and weights, giving you the freedom to choose the perfect yarn for your desired outcome.
The crochet sedge stripes pattern is not limited to baby blankets alone. You can also incorporate it into other crochet projects such as scarves, shawls, or even larger afghans. The adaptability of this pattern makes it a versatile choice for crocheters looking to explore different possibilities.
To create a beautiful sedge stripes baby blanket, you will need the following materials:
Yarn: Choose a soft and cozy yarn suitable for babies, such as baby-weight or sport-weight yarn. The color selection is entirely up to your personal preference and the intended style of the blanket.
Crochet Hook: The size of the crochet hook will depend on the yarn you've chosen. Refer to the yarn label or pattern instructions for the recommended hook size.
Scissors: A sharp pair of scissors is essential for cutting the yarn and trimming any loose ends.
Stitch Markers: These useful tools will help you keep track of your stitches and pattern repeats, ensuring a neat and symmetrical final result.
Gather all the necessary materials before starting your crochet sedge stripes baby blanket project. Being prepared will make the crocheting process more enjoyable and efficient.
In conclusion, the crochet sedge stripes baby blanket offers a combination of cozy warmth and stylish design. Its simple elegance and versatility make it a popular choice among crocheters. With the right materials and a passion for crochet, you can create a beautiful and functional blanket that will be treasured by both babies and their families.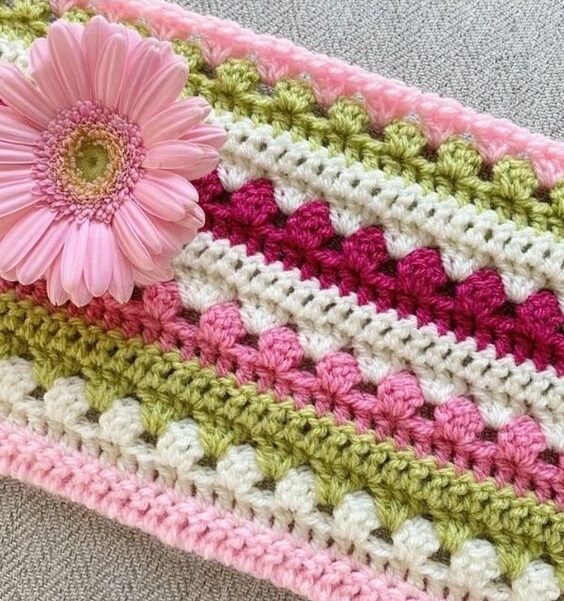 Access the free Crochet Pattern
And if you liked this pattern, but still want to see some more options of models of the most different crochet projects, below I will leave other free options for you to view:
It is with great respect to all our followers that the blog We Love Crochet Patterns wishes you all an excellent week, full of God's blessings in your homes, much peace, joy, harmony, and especially many, many threads to start more a crochet yarn craft project.
With love and affection, We Love Crochet Patterns!