Hello dear crocheter, here is a simplified step-by-step guide on how to crochet an aviator hat pattern. Follow these steps and you'll be creating your own hat in no time, even if you're new to crochet!
Step 1: Gather the Materials
To get started, you will need:
Thick wool yarn in the color of your choice.
Crochet hook of the recommended size for the yarn.
Scissors.
Measuring tape.
Buttons or decorations for finishing.
Step 2: Make a Magic Ring
Start by making a magic ring: hold the end of the thread between your fingers and make a circle with the thread. Pass the crochet hook through the circle and pull the yarn through it to form the ring.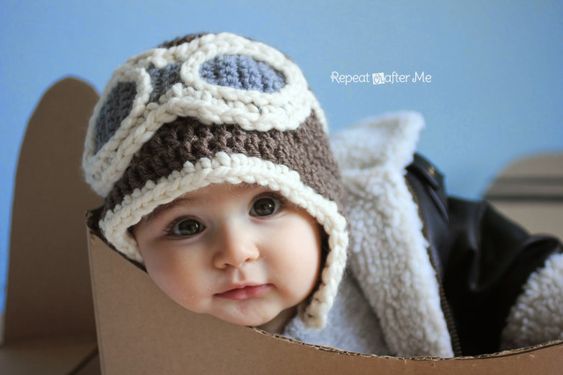 Step 3: Make the Initial Points
Inside the magic ring, crochet 10 double crochets (dc) using your crochet hook. This will create the base of your hat.
Step 4: Increase Points
Now, to increase the size of the hat, make 2 double crochets in each double crochet from the previous step. This will double the number of points, resulting in 20 points in total.
Step 5: Continue to Increase
Repeat step 4, increasing by 10 stitches each round. That is, in the next cycle, make 2 double crochets in every second double crochet, and so on. Continue doing this until you reach the desired size for the hat's circumference.
Step 6: Work the Tabs
Now that you have the desired circumference, let's create the brims of the hat. Work a few rounds without increases to create the straight part of the hat.
Step 7: Finish the Top
To finish the top of the hat, decrease stitches in each round. Crochet 2 double crochets together every few double crochets until the top is closed.
Step 8: Sew and Decorate
Cut the thread, leaving a sufficiently long tail. Pass the tail through all remaining stitches and pull to close the top of the hat. Sew the flaps together and add buttons or embellishments for the finishing touch.
Step 9: Enjoy your Aviator Hat
Now you have a beautiful crochet aviator hat! Put it on your head and feel proud of your handiwork.
Remember to practice and don't get discouraged if you don't get it perfect on the first try. Crochet improves with practice. Have fun creating your aviator hat!
If you liked this crochet yarn craft pattern, just below, we'll leave you with some more options for models of the most diverse crochet styles so that you can be inspired and hit the nail on the head, which style of crochet you will start with:
Access the full free crochet pattern
We at the We Love Crochet blog wish all our beloved readers a wonderful week, full of God's blessings in their homes, and of course, not least many skeins of yarn to crochet. A big hug to everyone, that's what we want. We Love Crochet.