Strawberry potholder hot pad: Crocheting your own kitchen accessories is not only a great way to unleash your creativity but also adds a personal touch to your culinary space.
One delightful and practical project is the crochet strawberry potholder/hot pad. This charming accessory not only protects your hands from hot surfaces but also adds a touch of whimsy to your kitchen decor. In this article, we'll explore the benefits and features of crocheting a strawberry potholder/hot pad.
Playful and Whimsical Design
The crochet strawberry potholder is a delightful addition to any kitchen with its playful and whimsical design. Shaped like a juicy strawberry, complete with textured seeds and a vibrant green stem, this potholder adds a touch of fun and character to your cooking space.
It brings a smile to your face every time you use it and makes a charming decorative element when hung on a hook or displayed on the counter.
Heat Resistance and Protection
The primary purpose of a potholder or hot pad is to protect your hands and surfaces from heat. The crochet strawberry potholder/hot pad excels in this area. By using heat-resistant yarn and a dense stitch pattern, this accessory provides effective insulation against hot pots, pans, and baking dishes. Its thick and textured construction offers a sturdy grip, allowing you to handle hot items with ease and confidence.
Customizable and Gift-Worthy
One of the great advantages of crocheting a strawberry potholder/hot pad is its customizability. You can choose your favorite colors to create a unique and personalized accessory that matches your kitchen decor.
Additionally, this project is perfect for gift-giving. Handcrafted potholders make thoughtful presents for housewarmings, bridal showers, or any occasion where you want to show your love and creativity. They are practical, stylish, and imbued with the warmth of your handmade touch.
Materials for Crocheting a Strawberry Potholder
To crochet your own strawberry potholder/hot pad, you will need the following materials:
Crochet hook: Choose an appropriate hook size based on the yarn weight you're using. A size G-6 (4.00 mm) or H-8 (5.00 mm) hook is commonly used for medium-weight yarn.
Yarn: Select cotton yarn in red for the strawberry body, green for the stem, and black for the seeds. Cotton yarn is ideal for kitchen accessories as it is durable, heat-resistant, and easy to clean.
Scissors: A good pair of scissors is essential for cutting yarn and trimming loose ends.
Stitch markers (optional): Stitch markers can be useful for keeping track of specific rounds or sections of the pattern.
Yarn needle: A large-eye yarn needle will be used for weaving in loose ends and finishing touches.
By gathering these materials and following a strawberry potholder/hot pad pattern or tutorial, you can create a charming and functional accessory that brings a touch of whimsy to your kitchen and protects your hands from hot surfaces. Enjoy the process of crocheting and delight in the satisfaction of using your handmade strawberry potholder/hot pad in your daily culinary adventures.
Remember to have fun, embrace your creativity, and savor the joy of crocheting!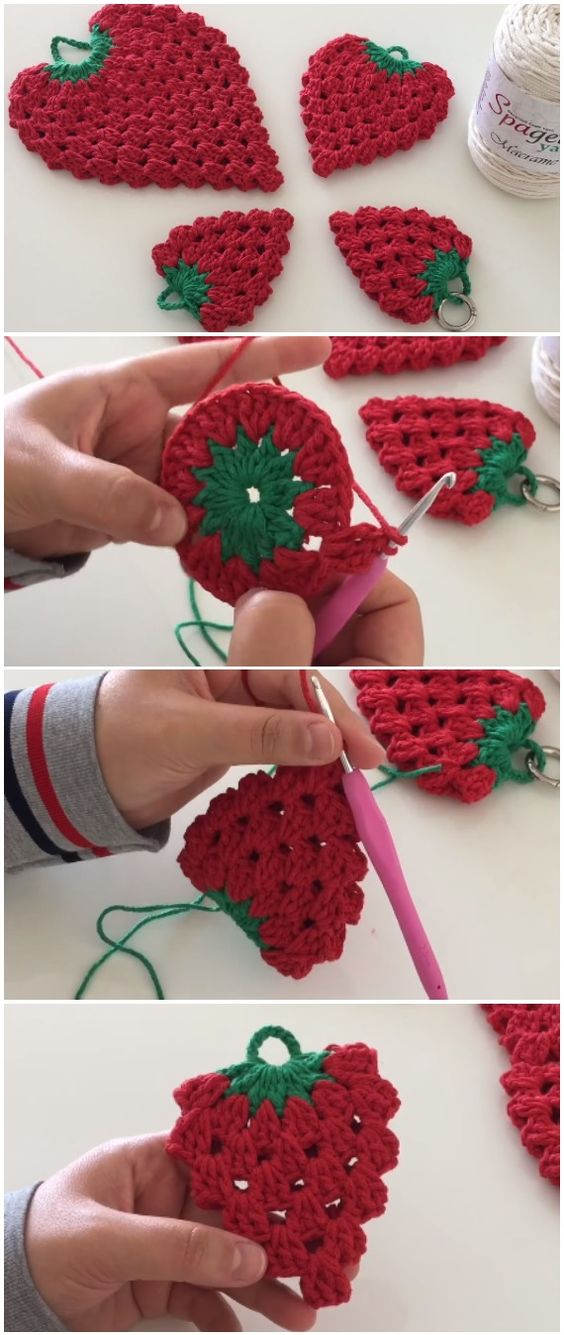 Access the free Crochet Pattern
And if you liked this pattern, but still want to see some more options of models of the most different crochet projects, below I will leave other free options for you to view:
It is with great respect to all our followers that the blog We Love Crochet Patterns wishes you all an excellent week, full of God's blessings in your homes, much peace, joy, harmony, and especially many, many threads to start more a crochet yarn craft project.
With love and affection, We Love Crochet Patterns!